1 year ago, I started this fanfic about Princess Janelle (Shin Chae Gyong) and Kim Hyun Joong (Leader) in order to feed my fantasy coz they are my dream couple. But in some reasons, I forgot to continue it! Wahahaha~ Anyways, here's the part 3. In case you missed the previous parts, here's the Part 1 and here's the Part 2
~~~~~~~~~~~~~~~~~~~~~~~~~~~~~~~~~~~~~~~~~~~~~~~~~~~~~~~~~~~~~~~~~~~~~~~~~~~~~~~~~~
continuation... Part 3
When he woke up the next morning, finally reality hits him that he can't play soccer for a long period of time. Still lying on his bed saying to himself 'Run, Ethan. You have to run.' He hates the feeling being stucked and so he got up and grabbed his crutches and started to practice his walk.
Picture Ethan (Kim Hyun Joong) as this:
He's not yet familiar how to use those crutches so he took several laps in his room. It took him only minutes to master his walk and so he proceeded outside the hall. He started to walk down the hall and stayed at the the right side. Slowly walking and looking down (still conscious with his walk). While he's busy observing his walk, so busy that he almost bump into a lady. He didn't noticed it actually, he just continued on walking. When he's halfway down the hall, a noise caught his attention coming from his behind. He looked behind him and saw a patient being rushed to E.R. Just when he was about to turn his back and return from his walking, he saw a lady holding a basket of orange almost bumped by the medical team with the patient rushing to E.R. The lady is okay though, but her basket was on the floor and and oranges are rolling down the hall. Ethan wanted to help the lady but then he just turn around and continued with his walk. While walking, an orange rolled on his feet and remembered the lady again. He can't pick it up and so he just kicked and played with it. Ethan miss playing soccer so much that he almost thought he's in the soccer field while playing with the orange.
When Ethan got back on his room, he was surprised by what he saw. Several female bodygurads are waiting on his room. Ethan stopped for awhile and wondered what the hell are these bodyguards doing in his room and then continue walking inside. When Ethan was about halfway on his room, he saw the Lady again and he saw the basket of oranges.
Princess Janelle : *ehem (cleared her throat) Annyeong Haseyo Ethan-ssi (bowed). My name is Janelle.
One of her bodyguard interrupted her and said:
Bodyguard 1

: Gong Ju Mama (Princess)
Princess Janelle looked at her.
Princess Janelle

: Ah, kurae (Ah, right).. I'm Princess Janelle.
Ethan bowed back but still awkward. It's his first time actually to see the Princess's face in close up. He can't believe that the lady he just saved is the Crown Princess of Korea.
Ethan wondered:
Ethan

: Why is she sad? her eyes are still puffy and I can feel sorrow inside her. (He wondered)
Picture Princess Janelle (Yoon Eun Hye) as this: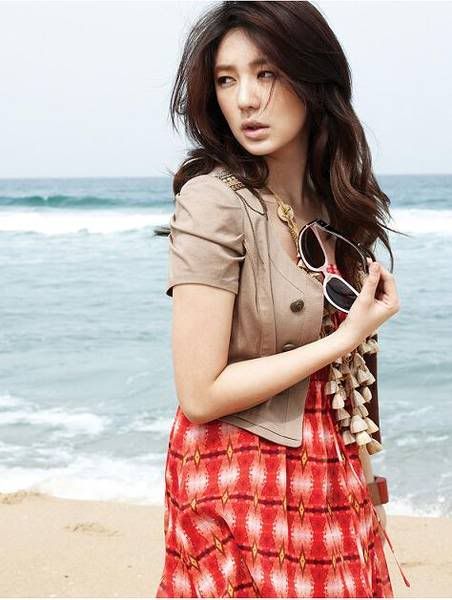 Ethan kept looking on her eyes while Princess Janelle is saying something. Ethan isn't paying attention.
Princess cleared her throat again after noticing Ethan is not paying attention.
Ethan closed his eyes and regained his attention to Princess Janelle.
Ethan

: Oh, I'm sorry. What is it again?
Princess Janelle

: I want to send my deepest gratitude to you for saving my son's life.
Ethan

: Ah, keu-keugon (ah, th-that)... that's nothing, re-really. (stuttering)
Princess Janelle: We wanted to give you this. ( She gave the blue palace-sealed folder).
Ethan, knew about it already. It's an offer from the palace for him to study in the Royal University and be a part of the University's soccer varsity team as a part of their gratitude for saving Prince Vincent's life.
Ethan:

Ah, thank you.
Ethan accepted the folder.
Princess Janelle:

Uhmm.... I heard your rejected it already, but please give it a thought again. I really want to give it to you personally as a part of my gratitude. You saved my son's life so this really important for me. I would be very happy if you accept it.
Ethan doesn't want to look on her eyes again, and so he pretended he was reading the folder. Scanning the pages, he thought of her sorrowful eyes. He wondered what's wrong with the princess. He can't get it out on his mind. And unconsciously he said 'Yes' to Princess Janelle.
Princes Janelle:

(surprised) oh!.. jeongmalyo? (really?)...
Princess Janelle smiled and looked down (smirked and smiled)
Princess Janelle

: Jeongmal Kamsahamnida! (thank you very much!) (bowed 2x).
Ethan bowed as well but still didn't know what he did.
Princes Janelle:

So, see you at school then? (smiling...)
Princess Janelle left Ethan's room and so as the bodyguards.
Ethan bowed to show respect but seconds later.....
Ethan

: Oh???... see you at school?... ah., ah., chakamanyo!~~
But it's too late already, Princess Janelle was out of the room when he called her back.
Ethan thought what happened and why the Princess said 'See you at school then,'..
Ethan talking to himself..
Ethan:

Aissshhhhh.. Did I just say Yes to her??? Pabo..
So the fact that they are now going to same school hit him too~~
Ethan

: same school? she's still studying???....
Ethan's heart pounding.............
~End of part 3~