I dragged this from Koala's Wordpress and I'm going crazy! Hope this will not happened! ahhhhh I'm dying....................... of JEALOUSY!
Please give full credits when re-posting. Thanks!
Rumored Dialogue from the Playful Kiss Wedding Night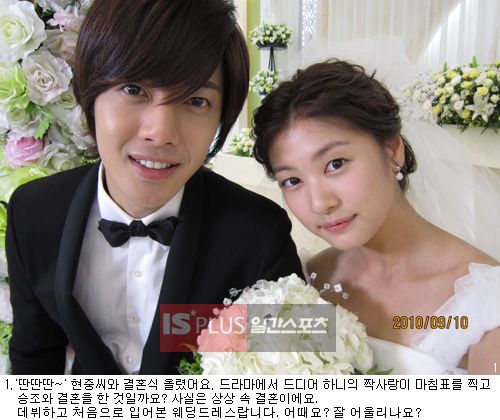 Some wholly unsubstantiated rumors about the dialogue between our newlyweds on their wedding night in

Playful Kiss

. I'm treating this like fan-fiction pending further confirmation, but apparently it was posted on DC Gall and then immediately taken down. Nothing like disappearing posts for it to lend credence to rumors. [Edit: I added some cute Baidu avatars!]
I'm blushing a pretty pink blush just reading it, but hey, I never presumed to be a source of credible and/or official information. Let's continue the Playful Kiss spoilery goodness, shall we?
Wedding Night:
*Seung Jo and Ha Ni are in bed – Seung Jo is kissing Ha Ni gently, and Ha Ni is immobilized in the moment*
HN: Ah. That….wait a minute….
SJ: What is it?
HN: *struggling free of Seung Jo's embrace* That….I need to prepare….
SJ: Heh. Prepare for what?
HN: That…..the stuff a woman needs to prepare for….
SJ: *Smiles – speaks softly to HN* Forget it. I can't wait any longer….
*Seung Jo continues to kiss Ha Ni gently*
HN: No….wait…. *she grabs Seung Jo's neck and settles into the mattress*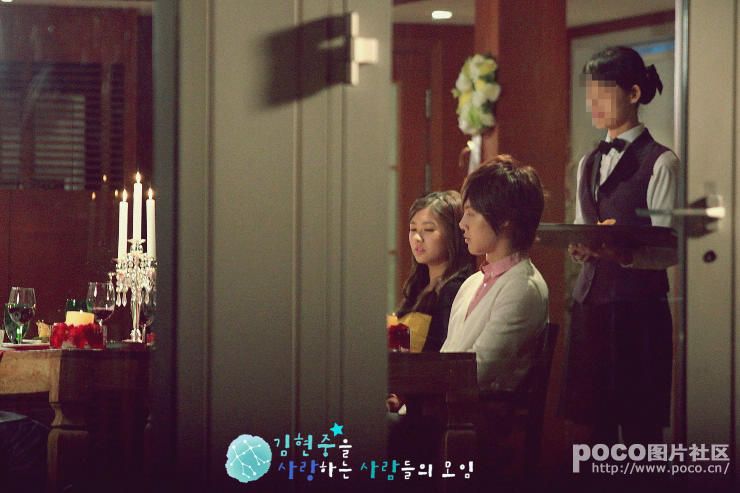 Seriously, I'm gonna have to recap this?!? Thank heaven I'm not missish. Jung So Min better get herself some bodyguard protection after finishing PK. Once again, this dialogue is completely unsubstantiated, so take it with a giant cup of salt. Still, if this does happen, I might need a nice cold shower after watching it.
The first picture above is a BTS shot from the fantasy wedding sequence in episode 6 and the second picture is a BTS shot from the Jeju Island shoot this past weekend. For those of you who asked me for permission to re-post and I agreed, you can re-post this if you want, no need to ask again. Otherwise, please link to the post. Thanks!
[Edit: Baidu fans reactions to these unsubstantiated spoilers are hilarious, check out these avatars representing their state-of-mind:

- nosebleed

- me no comprendo

- crying and cheering simulataneously

- shy panda

- nosebleed panda

- anticipating kissy-kissy

- shock and awe

- drooling panda
[Credit: original dialogue posted on Baidu Playful Kiss bar, translated into English by koala; pictures as marked]

*************************************************************************************************************
Those avatars are killing me! hahahaha..... shock and awe! bwahahaha that's me!